"We are here to find solutions for producers" MIDA Minister Eduardo Carles spoke with Radio Panama from the Agritech fair in Israel.
Zuleima Daher | 05/10/2018
Radio Panama presented from one of the most important fairs in the world of agriculture, Agritech 2018.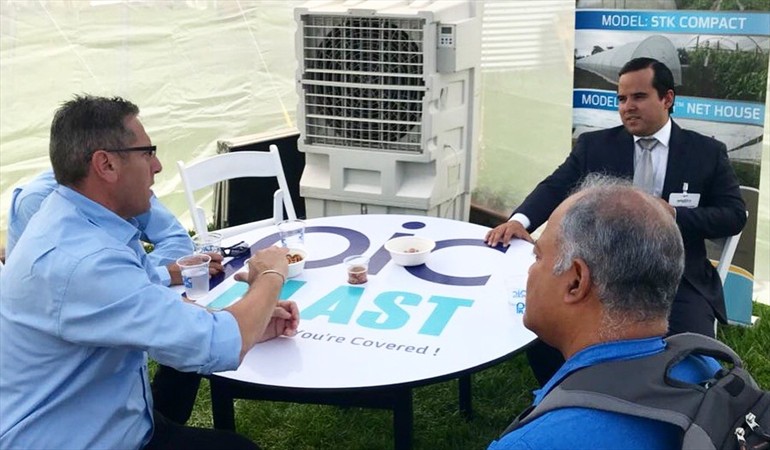 Interview of MIDA Minister Eduardo Carles with radio Panama
Israel and Panama confirm agreement to create the second agricultural excellence center in Chiriquí. Minister Enrique Carlos noted that this trip to Israel is aimed at finding technology solutions for local producers. "For that, the bilateral agreements are signed, the idea is to support our producers". Carles pointed.
He also commented that together with the Agricultural Development Bank, they had the initiative of taking five Panamanian producers to Israel so that they could know first-hand the techniques and technology of the Israeli country. "We have to make the producer change his way of thinking and bet on technology"
Indicated Carles, who believes firmly in the potential that Panama has and even more adopting new techniques that improve the current product.
***
Estamos aquí para buscar soluciones para los productores ; El ministro del MIDA Eduardo Carles conversó con Radio Panamá desde la feria Agrotech en Israel.
Israel y Panamá confirman acuerdo de creación de segundo centro de excelencia agrícola en Chiriquí. El ministro Enrique Carlos resaltó que este viaje a Israel tiene como motivo buscar soluciones en tecnología para los productores locales. "Para eso se firman los acuerdos bilaterales, la idea es apoyar a nuestros productores". Señaló Carles.
También comento que junto al Banco de Desarrollo Agropecuario, tuvieron la iniciativa de llevar a cinco productores panameños a Israel para que conocieran de primera mano las técnicas y tecnología del país Israelí. "Tenemos que hacer que el productor cambie su manera de pensar y apueste por la tecnología".
Indicó Carles, quién cree firmemente en el potencial que tiene Panamá y más aún adoptando técnicas nuevas que mejoren el producto actual.
Source: http://www.radiopanama.com.pa/noticias/actualidad/estamos-aqui-para-buscar-soluciones-para-los-productores–eduardo-carles/20180510/nota/3748149.aspx
Video: http://www.radiopanama.com.pa/multimedia/videos/radio-panama-desde-agritech-israel/20180511/video/3748703.aspx